Paranormal Super Bowl! Get your free zombie humor here!
Paranormal Super Bowl? You mean like zombie versus zombie? Or actual zombies versus people, apocalyptic style? How can that be funny? Try Zombie Turkeys!

Here you get zombie turkeys against football players! That's just what you need for the Super Bowl! Your team losing today? Root for the zombie turkeys to appear!
Zombie Turkeys audiobook cover. Click to get!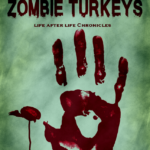 This is the book read by professional voice actors, Phil Blechman 
and Raven Perez.
Don't miss your free audio sample at the link!
Next comes the kickoff!
Continue reading "Paranormal Super Bowl! Get your free zombie humor here!"